General Information
ERASMUS MUNDUS MASTER PROGRAMME IN SOIL SCIENCE
ERASMUS+ Mundus Joint Master Degree in Soil Science (emiSS) is organized by a consortium of four Universities: Ondokuz Mayıs University (OMU-Turkey), University of Agriculture in Krakow (UAK-Poland), Agricultural University Plovdiv (AU - Bulgaria), Jordan University of Science and Technology (JUST- Jordan). Ondokuz Mayıs University is the co-ordinating institution of the emiSS Consortium. The aim of emiSS is to raise and meet the need for qualified and skilled soil scientists at the master level through a training programme bringing together soil science (soil physics, chemistry, biology and hydrology, soil genesis and classification, soil pollution and reclamation), management (soil erosion and conservation, land use, planning and management, soil health and quality), fertility (fertilizers and fertilization, soilless culture, composting and vermicompost), soil ecosystem (soil biodiversity, soil-plant-water relationships, soil C sequestration and storage, etc), intercultural competence and language skills. To achieve this, the programme will benefit from the integration of scientific fields under the roof of Soil Science and Plant Nutrition of each consortium university participating in the emiSS, where their strength lies. Ondokuz Mayıs University stands out with scientific research and publications in the fields of soil-plant-water relationships, organic waste management, land use, planning and management, soil microbiology and composting techniques; the University of Agriculture in Krakow in soil genesis and classification, soil mineralogy and micromorphology; Agricultural University Plovdiv in soil fertility, plant nutrition, fertilizer application and soil chemistry, mineralogy and reclamation of damaged soils and Jordan University of Science and Technology in soil salinity and soilless culture, fertilization.
Soil is one of the most important natural resources covering the world alongside air and water. All micro-macro flora and fauna living in the ecosystem meet their food requirement directly or indirectly from the soil. Recent developments in the natural resource and environment sciences evidenced that soil is the basis of major ecosystem functions recognized scientifically. That it houses vital nutrients supporting different land covers and types (forest, pasture and agriculture); regulates the temperature of the earth besides its key role in controlling the emission of various sera gases; prevents draught and floods in water basins with its water holding and storage capacity; and is a natural refining environment in terms of pollution are amongst the main functions of the soil system. Furthermore, soil, water and air pollution is reduced with new and creative soil management strategies against industrial, urban and agricultural pollution which seriously endanger the environment and human health and the performance of the ecosystem is increasing. Ecosystems present various functions providing viable environment and conditions for the nourishment, shelter of creatures and for them to sustain their generations. There are great pressures on natural resources, and especially the soil, up from the civilizations founded to this day. Factors such as climate change, especially unhealthy industrialization due to rapid population growth, unplanned urbanization, misuse of land, increase in pollution, decrease in and/or extinction of species endangers biodiversity, thus the sustainability of the ecosystem. It is impossible to alter natural pedogenesis process as well as producing soil through technological means and no other resource can be used instead in case it's lost. Therefore, it is evident that we should act more responsibly towards soil compared to other natural resources.
There is a need for trained expert in the field human resources for the preservation and sustainable management of soil which is an important and nonrenewable natural resource throughout the world. As the scope of the programme planned to be opened is international, it will contribute to the in-field specialization of the soil scientists coming from various ecosystems or the specialization of staff from different scientific fields in the field of soil science. Soil constitutes the first link of the safe food chain to be established for the healthy nutrition of the world population and the basis for the food safety. The practical significance of the results of the project in the education of Master's Degree specialists will be the preparation of highly qualified experts in the field of Soil Science, who can be involved in practical, scientific and innovative activities as both academic and engineering staff.
This project was created to provide MSc training in the following topics: soil-plant-water relationships, land use, planning and management, soil microbiology and composting techniques, soil chemistry, soil pollution and reclamation; soil genesis and classification, soil mineralogy; soil physics and hydrology; soil erosion and conservation; soil salinity and soilless culture, fertilization. Each one of these topics constitutes directly the scientific research and training topics of Soil Science. The strong side of this programme is that it is formed by universities from various geographies with a certain scientific level in the field of universal Soil Science and application in practice. As it is, the soil scientists awarded the MSc degree will not only be equipped with the universal theoretical know how, but learn on-site the soil management, solution methods and efficient and healthy use of soil in topics such as climate change and food safety in different geographies. This will no doubt contribute important strengths to the compatibility of students graduating from the programme.
Courses
The design of the curriculum of the programme is of utmost importance to ensure the academic excellence of the programme. As such, the curriculum designed brings together the strong sides and best features of the consortium members. A Joint Integration Week will first be held, where students will come together under an orientation programme and introduce their culture and countries, followed by elective courses at OMU during the first semester. Students will take courses in Soil Science and Plant Nutrition at partner universities in the second semester. At the end of the second semester, a joint 7 days Summer Field Camp will be held in June. The first year also includes optional courses about general knowledge in soil science and plant nutrition. Students will specialize in their theses subjects at OMU, AUK, AU, SFedU or JUST in the second year, i.e. 3rd and 4th semesters and write their Master theses. The Final Conference and Diploma Ceremony will be held at OMU in August.
The Courses take place in at least two different programme countries. A student will complete the courses obtaining 30 ECTS in the first semester at OMU-Turkey and the other required 30 ECTS in the second semester at UAK-Poland or AU-Bulgaria. All the courses are taught in English. The students of emiSS will come together for a field camp at OMU for 7 days between the first and second semesters. During the field camp, students will visit different soil types formed under different ecological conditions (topography, geology, climate and vegetation). Moreover, students will take part in compost and vermicompost preparing processes, soil and water relationship measurements in field cases, crop and horticultural fertilization programmes and observe plant growth in fields and greenhouse conditions.
In the second year, students will start studying their master thesis at emiSS partner universities. In the third semester, students have to perform a seminar related with their study topic. In the fourth semester, students will complete their thesis studies and write their theses. They will defense the theses at the end of the semester in front of three jury members consisting of two members from the university in where the thesis study is completed and one from the emiSS consortium partners.
Successful emiSS students will obtain multiple degrees (at least two diplomas given by consortium universities) and one diploma supplement (signed by all consortium members) after the completion of 120 ECTS.
Mobility Scheme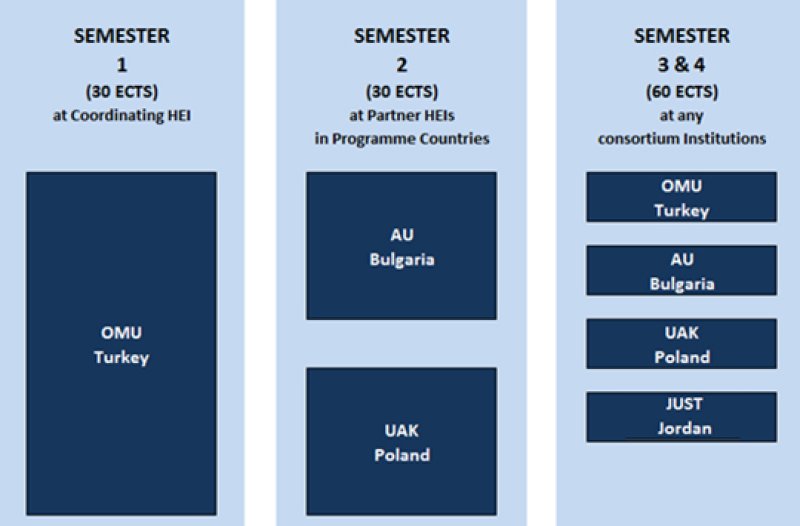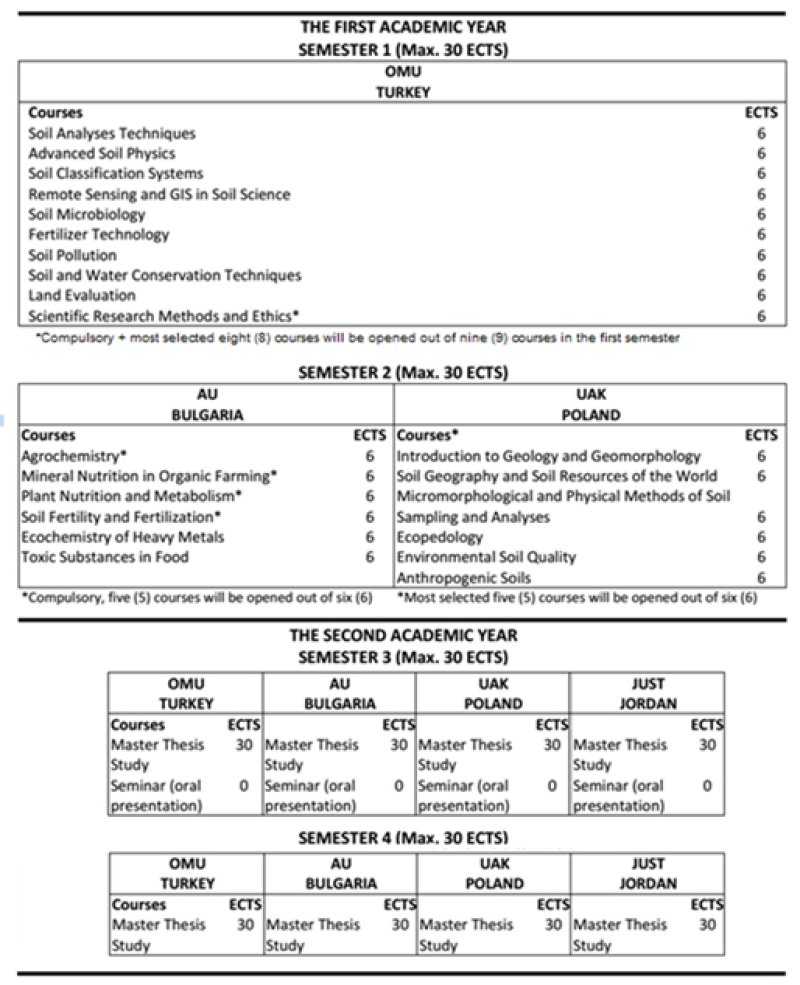 Note: A field camp at OMU will be organized between 1st and 2nd semesters in the first academic year.
Outcomes
Graduates of the programme will gain the following learning outcomes such as; be knowledgeable about finding solutions to international soil and environment issues, realize projects developing bilateral or multiple cooperation, ensure approach in the field of soil science in the frame of cultural differences, besides being equipped with theoretical knowledge, raising know how-skills through practice, and increasing the employment capacity in the national and international public and private sectors.
Employability
The pogramme of emiSS provides successful graduates with the competencies necessary to work in sustainable soil management, with a strong theoretical background, the ability to apply their knowledge, the skills to act at international level, and the cultural-awareness required in a globalised world. The graduates from the emiSS programme will be able to apply to high-level PhD programmes in soil science area. emiSS will seek to continue the dialogue with the private soil, plant, fertilizer analysis laboratories, the land appraisal and management companies, the soil Fertilizer and/or Soil Conditioner Industry and especially via its associated partners to increase the network of employment opportunities for emiSS graduates and to further develop the emiSS curriculum to ensure that it corresponds to the needs of the labor market. Governmental authorities also need experts to adapt regulations and to establish national policies for soil health and conservation with sustainable soil management systems. The demand for well-trained professionals is also high in professional organizations to support farmers in private and public extension services, and in the fertilizer companies.
Students' application process
Both scholarship applicants and self-funded candidates submit their application forms through the same on-line system, which can be accessed on this website. The application system will automatically guide you easily through the process.
Admissions requirements:
Awarded Bachelor of Science degree in soil science / soil science & plant nutrition, agriculture, biology, environmental science, earth science and related relevant fields. Language proficiency: B2 of the Common European Framework of Reference for Languages (CEFR), (IELTS 6.0, TOEFL 78) except when English is the mother tongue.
Application complete including two reference letters;
Note: Pre-acceptance is conditional to meet the requirements of the different Partner Universities as regards enrolment at Master's level. In order to confirm your registration in the emiSS master's Degree you may need to provide legalized copies of degree and transcript of records, legal translations by a sworn translator, etc. This documentation is not required at application stage so you do not need to incur in certain expenses that are not necessary until you are pre-accepted in the Master's Degree. In any case, you will be informed well in advance about the necessary requirements and documents you will need to provide.
About the first admission requirement "Awarded BSc degree": While this condition must necessarily be fulfilled at the time of enrolment, the EMJMD emiSS consortium accepts applications from students in the last year of their first higher education degree. Preference will be given to applicants that already have this condition fulfilled at the time of application.
Supporting documents required for application:
List of the supporting documents to be attached to the application form:
Curriculum Vitae;
Proof of place of residence ; Clarification as regards proof of residence: You will need to submit the following two documents:
a residence certificate issued in accordance with the candidate's municipality normal registration rules (usually issued by the town council, or one of its offices, to attest the citizens residence. It may receive the name of "city registration", "census certificate" or others), and
ii) a certificate from the candidate's place of work, study or training issued by the employer or institution in question.
These docs must have been issued within 12 months before the submission deadline of applying for an EMJMD student scholarship.
Copy of degrees obtained with official seal (i.e. completed higher education studies). If in addition to the BSc certificate you have obtained other degrees (i.e. MSc and/or PhD), please submit a copy of all the degrees obtained;
Transcript of records for the whole degree (at least the BSc transcript of records);
Two referee letters;
Certificates attesting language skills;
Specific documents asked to attest language proficiency:
Students applying for the emiSS Master Degree must have at least a level B2 in English (European Language Levels: CEFR – Europass). Adequate English knowledge means that the applicant has achieved a specific minimum grade in an internationally recognized test or equivalent. The different types of proof of such an achievement which are accepted are as follows:
International English Language Testing System (IELTS) — at least level 6.0
at least 78 credit points in the new internet-based TOEFL (Test of English as a Foreign Language)
Official certificate of Level B2 according to the Common European Framework (CEF).
Declaration on honour
Other additional documents you may consider relevant for the evaluation of your application (publications, proof of refugee status, etc.)
Note: Applicants also have to state their preferred mobility scheme (the universities they want to attend, in accordance with the different options given by the emiSS Master's degree). Please note that, while trying to respect your preferences, the emiSS Board will assign you an academic pathway subject to several factors (even distribution amongst partner Universities, academic profile, etc.) which may not necessarily be your preferred option.
Selection Procedure
Selection and admission to the emiSS Master Programme is based on academic merit. Both self-funded candidates and scholarship applicants submit their application forms through the same on-line system, which can be accessed on this website. The application system will automatically guide you easily through the process.
Candidates applying for a scholarship are subject to specific eligibility rules. Scholarships are awarded based on academic merit and the limitations established by the Erasmus Mundus Joint Master Degree Programme (e.g. maximum three nationals from the same country among the scholarship holders, etc.). Moreover, a number of scholarships are reserved to promote gender balance (if necessary) and for applicants who can prove a situation of vulnerability or disadvantage.
Evaluation Grid
Eligible applications will be submitted by the emiSS Secretariat to the Executive Board. Each eligible application is assessed by Executive Board of the Consortium according to the following specifications:
Criteria

Sub-criteria

Score

Coefficient

Score

Academic excellence

General academic result (Transcript record )

x/5

3,5

70

Academic results in subjects relevant for Soil Science and Plant Nutrition

x/5

Language proficiency

x/5

Academic potential

x/5

Motivation

Motivation and Coherence between career objectives and emiSS objectives

x/5

1,5

30

Letters of reference

x/5

Special Needs

Proof of physical, mental or health-related conditions

Y - N

0 - 1
Selection and admission to emiSS is based on academic merit. So applicants who score at least 35 out of 70 in "academic competencies" and 50 out of 100 in total will be ranked according to the total score of the consortium members. Unfortunately other applicants will not be considered and put on a "non-selected list".
The applications of the first call will be ranked according to their total score in a scholarship candidates list. On the basis of this absolute ranking list, candidates will be separated in two different lists:
-Programme Country
-Partner Country (including applicants eligible for a specific "geographical window") The ranking for both lists will contain a main and a reserve list.
If the main list already includes three students with the same nationality, the following students with the same nationality will be placed on the reserve list. The order of the students in the reserve list corresponds to the order of the students in the absolute ranking list.
Best ranked applicants of each main list will be selected for an online short interview. Candidates are contacted at least 7 days before the date and time of the interview. The interview is designed to check the English level, the motivation, knowledge and communication skills of each applicants. Two different universities of the Consortium manage each interview thanks to a specific procedure agreed by all Consortium members.
Following interviews, the Executive Board selects the best candidates of each main list and places the other candidates on the reserve list. Those best candidates will be offered a place in the emiSS program with an Erasmus Mundus scholarship.
emiSS Programme has a policy of equal opportunities for women, and gender balance will be considered carefully.
Fees:
Programme Countries:
EU Member States: Austria, Belgium, Bulgaria, Croatia, Cyprus, Czech Republic, Denmark, Estonia, Finland, France, Germany, Greece, Hungary, Ireland, Italy, Latvia, Lithuania, Luxembourg, Malta, Netherlands, Poland, Portugal, Romania, Slovakia, Slovenia, Spain, Sweden, United Kingdom
Other Programme Countries: Iceland, Liechtenstein, Norway, former Yugoslav Republic of Macedonia, Turkey
Partner Countries: All other countries throughout the world
Note: Applicants from Overseas Countries and Territories (OCTs) must apply on a 'Programme country' status, the 'Programme country' being the Member State with which they are connected. The list of OCTs can be found at:
https://ec.europa.eu/europeaid/regions/octs_en
Note: Students whose citizenship is one of the Erasmus+ Partner Countries count as Partner Country students.
Partner Country students who are not residents nor have carried out their main activity (studies, training or work) for more than a total of 12 months over the last five years in any Programme Country are considered as Partner Country students. The five-year reference period for this 12- months rule is calculated backwards as from the submission deadline (defined by the consortia) of applying for an EMJMD student scholarship.
Students whose citizenship is one of the Erasmus+ Programme Countries count as Programme Country students. Students with a Partner Country citizenship who do not fulfil the Partner Country criteria defined above (12-months rule) count as Programme Country students.
Students with a double nationality (of a Partner and of a Programme Country) must specify the nationality under which they submit their scholarship application.
* The 12-months residency rule should not apply to the Partner Country candidates who for various reasons and under various circumstances have sought refuge and received a refugee status in a Programme Country.
The Fees and Participation Costs cover:
Health and accident insurance during the whole academic period;
The registration of the student as regular student of the partner universities;
Tuition fees;
- Access to library and laboratories;
- Student management, services and activities; support in visa application procedures, etc.;
- Initial Orientation Week for all emiSS programme students;
- Registration and participation in the Final emiSS Conference;
- All other academic and administrative fees (e.g. degree issuing from the two partner Universities attended, access fee, recognition fees, etc.);
Besides, you will be able to join the Erasmus Mundus Student and Alumni Association (http://www.em-a.eu/). EU-funded EMJMD scholarships cover all fees and participation costs. Those grantees registering on a self-funded basis will be informed about the different payment options.
Financial Support:
Expected EMJMD Scholarships offered
Scholarship

Total

No

1st Intake
(2020-2021)

2nd Intake
(2021-2022)

3rd Intake
(2022-2023)

4th Intake
(2023-2024)

Candidates from
Programme Countries

16

4

4

4

4

Candidates from
Partner Countries

40

10

10

10

10

Additional Scholarships for IPA-Western Balkans - Region 1
(Albania, Bosnia and Herzegovina, Kosovo, Montenegro)

2

0

0

1

1

Additional Scholarships for ENI – East - Region 2

(Armenia, Azerbaijan, Belarus, Georgia, Moldova, Territory of Ukraine)

ENI- South – Region 3

(Algeria, Egypt, Israel, Jordan, Lebanon, Libya, Morocco, Palestine, Syria and Tunisia)
(DPR Korea, Indonesia, Malaysia, Maldives, Mongolia, Pakistan, Philippines, Sri Lanka, Thailand and Vietnam)

3

1

1

0

1

Additional Scholarships for DCI*

Asia LDC countries

Asia remainig countries

Central Asia L-LMI countries

Central Asia remainig countries

Latin America LMI countries

Latin America Brazil and Mexico

Latin America-remaining countries

12

3

3

3

3

Additional Scholarships for EDF - African, Caribbean, Pacific (ACP) countries – Region 11*

(79 countries of the region: 48 from Africa, 16 from the Caribbean & 15 from the Pacific)

3

1

1

1

0

TOTAL

76

19

19

19

19
*https://ec.europa.eu/programmes/erasmus-plus/printpdf/programme-guide/part-a/who-can-participate/eligible-countries_en
EMJMD Scholarships funding scheme:
The students who are awarded an EMJMD scholarship will benefit from the following financial support;
Partner Country students

Program Country students

Contribution to emiSS

participation costs*

6.000 €

(2-year full-time Master degree)

6.000 €

(2-year full-time Master degree)

Contribution to travel costs*

2.000 €/year if place of residence is less than 4'000 km from LAS

3.000 €/year if place of residence

more than 4'000 km from LAS

1.000 € / year

Contribution to installation costs*

1.000 €

N.A.

Living allowance (max. 24 months)

1.000 € / month (not when in country of residence and max. 3 months in any Partner Country)

1.000 € / month

(not when in country of residence)
*The funds corresponding to the concept "Contribution to emiSS programme participation costs" are directly collected by the emiSS Consortium and are not transferred to scholarship holders.
Distance calculator: If you apply for an EMJMD scholarship, you can check the applicable contribution to travel costs in:
http://ec.europa.eu/programmes/erasmus-plus/tools/distance_en.htm
Erasmus+ Master Loans
What is it?
Erasmus+ Master Loans allow students to apply for financial support for their Master's studies abroad. Loans will be offered by participating banks and student loan agencies on favorable conditions to mobile students, including better than market interest rates and up to two years to allow graduates to get into a job before beginning repayment
Who can apply?
Higher education students who have been accepted for a full Master's study programme in another Erasmus+ Programme Country can apply for a loan to contribute to their costs.
Your destination country must be different from your country of residence, and from that where you obtained your Bachelor's degree.
How much can be borrowed?
Prospective Master students can receive a loan of up to €12,000 for a one-year Master's course or up to €18,000 for a two-year Master's course (or equivalent amounts in foreign currency for banks in non-Euro countries, subject to exchange rates).
You can reach more info on:
http://ec.europa.eu/education/opportunities/higher-education/masters-loans_en.htm
Erasmus Mundus Student and alumni association (EMA)
As participant of an EMJMD you will be considered an Erasmus Mundus student and as such you will be able to join the "Erasmus Mundus Student and Alumni Association (EMA)"
EMA offers an international professional and personal network for Erasmus Mundus students and graduates. EMA serves as channel of communication for students, alumni, universities and the European Commission. Besides, through the Programme Representatives and Country Representatives EMA enables the potential Erasmus Mundus applicants to get in touch with the current students and graduates to receive a piece of advice and recommendations based on the experience of previous generations.
You can reach more info on: http://www.em-a.eu/
EACEA - Privacy Statement
https://eacea.ec.europa.eu/sites/eacea-site/files/privacy_statement_emt.pdf
If candidates/applicants are selected (proposed for a scholarship/fellowship, put on the reserve list or enrolled on a self-paying basis) their data may be used for the purposes of evaluating the programmes, efficiently manage the projects, and producing statistics. Data could be made available to the EACEA, the European Commission, the European External Action Service staff, as well as to other stakeholders of the Erasmus+ programme, such as Erasmus+ National Agencies, National Erasmus+ Offices and the Erasmus Mundus Student and Alumni Association.